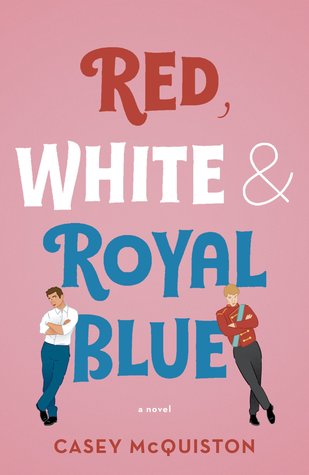 Title: Red, White & Royal Blue
Author: Casey McQuiston
Publication Date: May 14, 2019
Pages: 432
Genre: Contemporary
Slytherin Rating: 5/5
Ravenclaw Rating: 5/5
Synopsis: A big-hearted romantic comedy in which First Son Alex falls in love with Prince Henry of Wales after an incident of international proportions forces them to pretend to be best friends…
First Son Alex Claremont-Diaz is the closest thing to a prince this side of the Atlantic. With his intrepid sister and the Veep's genius granddaughter, they're the White House Trio, a beautiful millennial marketing strategy for his mother, President Ellen Claremont. International socialite duties do have downsides—namely, when photos of a confrontation with his longtime nemesis Prince Henry at a royal wedding leak to the tabloids and threaten American/British relations.
The plan for damage control: staging a fake friendship between the First Son and the Prince. Alex is busy enough handling his mother's bloodthirsty opponents and his own political ambitions without an uptight royal slowing him down. But beneath Henry's Prince Charming veneer, there's a soft-hearted eccentric with a dry sense of humor and more than one ghost haunting him.
As President Claremont kicks off her reelection bid, Alex finds himself hurtling into a secret relationship with Henry that could derail the campaign and upend two nations. And Henry throws everything into question for Alex, an impulsive, charming guy who thought he knew everything: What is worth the sacrifice? How do you do all the good you can do? And, most importantly, how will history remember you?
---
Slytherin Review
This book! My goodness, this book! That's precisely how I start most of my conversations about this book and I feel like that alone gives away all of my feelings about it. When I initially saw the approval for the ARC, I honestly screamed a little. I was so here for everything that was said in the synopsis and I couldn't wait to read it.
This book was absolute perfection for me. I love the characters so much. They both fit into the the way each of their societies like to think they should be, but each of them has something that sets them apart from the way "they're supposed to be." There are a lot of typical stereotypes in the story, but it's done in a way that makes you able to relate to the characters.
"Thinking about history makes me wonder how I'll fit into it one day, I guess. And you too. I kinda wish people still wrote like that. History, huh? Bet we could make some."
Even the side characters in the story are absolutely amazing! I would honestly die so happy if news came out of a sequel or companion to Red, White, and Royal Blue that focused on any of the amazing side characters.
This is one of those stories that honestly had me laughing out loud constantly. The banter and one liners were absolute perfection and I ended the story absolutely wanting more banter from Henry and Alex. As the two of them live in different countries that are an ocean apart, they communicate mostly through emails, which were again perfection.
This is also definitely a story about US politics. It doesn't shy away from that and should be known going into it. It deals with a lot, but it's absolutely needed and I seriously want more in this world.
This is an absolute gem in the world of books. It has so much good in it. Yes, it has a focus on politics, but it also deals with family, friendship, and love. I knew the moment I finished the book that this would be one I wanted to reread again and again. It's a definite five star book for me and I can't wait for more from Casey McQuiston in the future.
---
Ravenclaw Review
I adored this book! I was really excited when we were approved for the ARC of this, because the description was just too good to pass up! Two men falling in love, against all odds. It was perfect.
First of all, the characters in this novel were fantastic. Each one of them was delightfully unique. I loved that Casey McQuiston utilized a lot of stereotypes, but in a way that made her characters relatable. Both main characters fit the "picture-perfect" mold of their country, but the truly wonderful thing was all of the little ways in how they didn't fit the mold. It really helped the story feel like this could happen to anyone and everyone; but at the same time, it made these characters stand out as individuals even more.
The story line of Red, White & Royal Blue was just phenomenal. I went into this, thinking that this was going to be your traditional, YA Queer romance. I anticipated a Meet-Cute and Insta-love, but OH how wrong I was! These two start of hating each other, and then because of their feud, they're made to spend a full twenty-four hours together to promote the idea of friendship to the press. I was shocked when the twenty-four hours were up, and I was not even a quarter of the way through the book. This story had a fully-fledged, planned out romance that took months to cultivate. It was the perfect slow-burn relationship, that left me rooting for them at every turn.
"That's the choice. I love him, with all that, because of all that. On purpose. I love him on purpose." 
Overall, I loved this book. It was simple and sweet, and complex and heartbreaking. It's full of the most delightful quotes that filled my heart with joy. I love this book and I already want to reread it! This is easily a five-star book for me!